For John Moffat Fugui, the first Solomon Islands Ambassador to China, "Xi Jinping: The Governance of China" opens "a window of thought" to understanding China.
"I have read the first three volumes of 'Xi Jinping: The Governance of China' and I am reading the fourth volume," Fugui shared his reading experience during his interview with the People's Daily's Haiwainet. He learned about the reasons for the extraordinary achievements China has gained in the new era stating, "with such thoughts as a guide, any achievement is possible." The deeper he understands China, the more determined Fugui is. "Establishing diplomatic relations with China is a great decision in our diplomatic history," he said.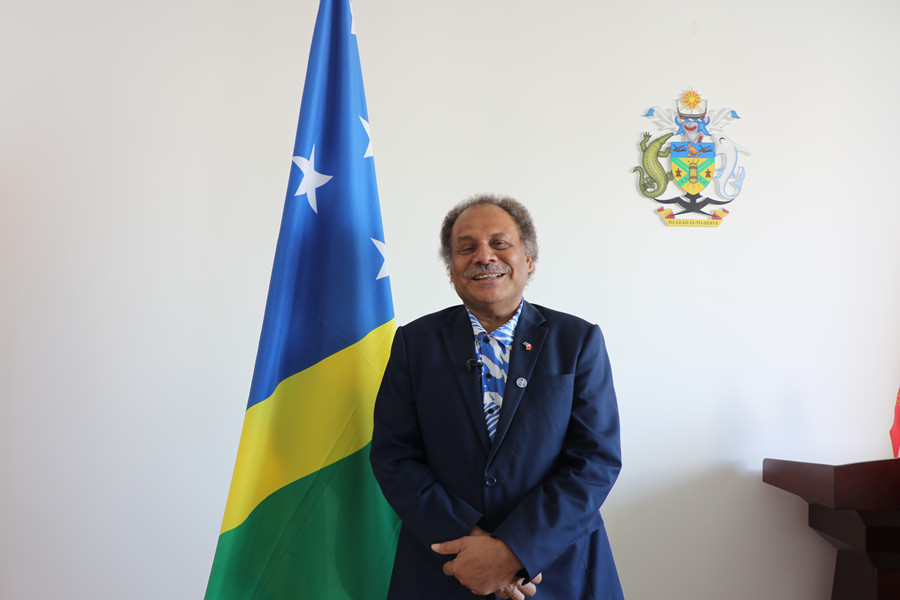 John Moffat Fugui, the Solomon Islands Ambassador to China (Photo: Lu Ningyuan/provided to People's Daily)
Receiving "respect" in China
On September 21, 2019, China and the Solomon Islands established diplomatic relations. The establishment of diplomatic relations between the two countries is an overarching trend, and Fugui knows this well.
Before China and the Solomon Islands established diplomatic relations, Fugui has led a delegation to China, visiting Beijing, Guangzhou, and other cities. "We were impressed by what we saw and heard in China," Fugui intimated. "First of all, China respects us. The Solomon Islands were colonized in the past, and nations are unequal under colonial systems. But when we came to China for the first time, we were respected and treated as important friends and distinguished guests." Besides this, the prosperity in China amazed Fugui and his team a lot. In just a few decades, China went through the development process that has taken developed countries several centuries to achieve. Fugui had long heard about China's miracle, and noted that it was "very impressive to see it for ourselves."
At the end of that journey in China, Fugui and his team were of the same mind. "The delegation members have different background and are divided on many issues. But we all agreed that we should establish diplomatic relations with China," Fugui emphasized. "Establishing diplomatic relations with China is the right historical decision for our country."
When he talked about how he feels about being the first Solomon Islands Ambassador to China, Fugui said he was "excited." "The Solomon Islands is a small island state in the Pacific, and establishing diplomatic relations with China enables us to reach out to a bigger world. Our top priority is to open our embassy in Beijing. Now we can represent the voice of the Solomon Islands on the big platform of China, promote communication, and share the great influence of China," Fugui said.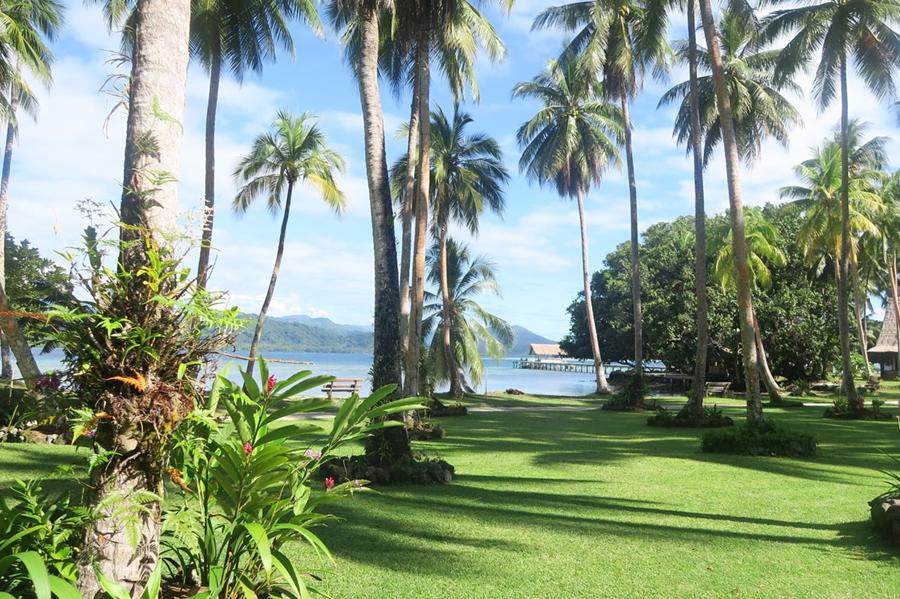 Tavanipupu Island Resort (Photo: Embassy of the Solomon Islands to China)
"China is a great friend"
In 2023, Solomon Islands will host the Pacific Games. It is the first time for the Solomon Islands to host a major international sporting event. It will also be the first time for Solomon Islands athletes to compete on their own soil with counterparts from other countries. Since the start of the China-assisted 2023 Pacific Games stadium project in May 2021, Chinese contractors have been working together with the Solomon Islands Government to overcome adverse factors such as the COVID-19 pandemic to push the project forward. In April 2022, the stadium training track and soccer field were officially completed and handed over. In June, the National University of Solomon Islands dormitory building project began. After its completion, it will be used as the Pacific Games athletes' village. At present, the main structure of the stadium is near completion. "The Chinese Government's assistance is unprecedented in the history of the Solomon Islands," Fugui said.
China provides a strong boost to the economic and social development of the Solomon Islands. China grants zero-tariff treatment on 98 percent of taxable items originating from the Solomon Islands. China's first medical aid team arrived in the Solomon Islands in March 2022, and their exquisite medical skills and kindness won the praise of people from the Solomon Islands. China helped the Solomon Islands in water conservation, sanitation, housing, the running of coconut processing plants, and other small-scale livelihood projects, benefiting many tribes and villages. China and the Solomon Islands signed a framework agreement on bilateral security cooperation, which will help the Solomon Islands maintain social stability. Fugui affirmed that "after establishing diplomatic relations with China, it is like we are riding on a high-speed train and feel like we are flying. Almost every day, our people talk about the great changes brought by China. China is not just a good friend, but a great friend."
Some western media outlets have smeared the cooperation between China and the Solomon Islands. On such acts, Fugui said that some western countries stick to western-centrism and want to suppress and demonize other countries to satisfy their own interests. Such a mindset is very partial and does not work in the world where countries are interdependent. Fugui greatly appreciates China's view of the world, cooperation, and development. "If you read the history of China's foreign relations, you will find that China is development-oriented. For example, China proposed the Belt and Road Initiative (BRI) to further promote development, in which many Pacific Island Countries (PIC) are involved," Fugui said, "The culture and tradition of living in Oceania has taught us that only by constantly striving to paddle forward will the boat not be swallowed by the sea. PIC and China need to continue to do the right things and the paddling of our cooperation shall not be stopped."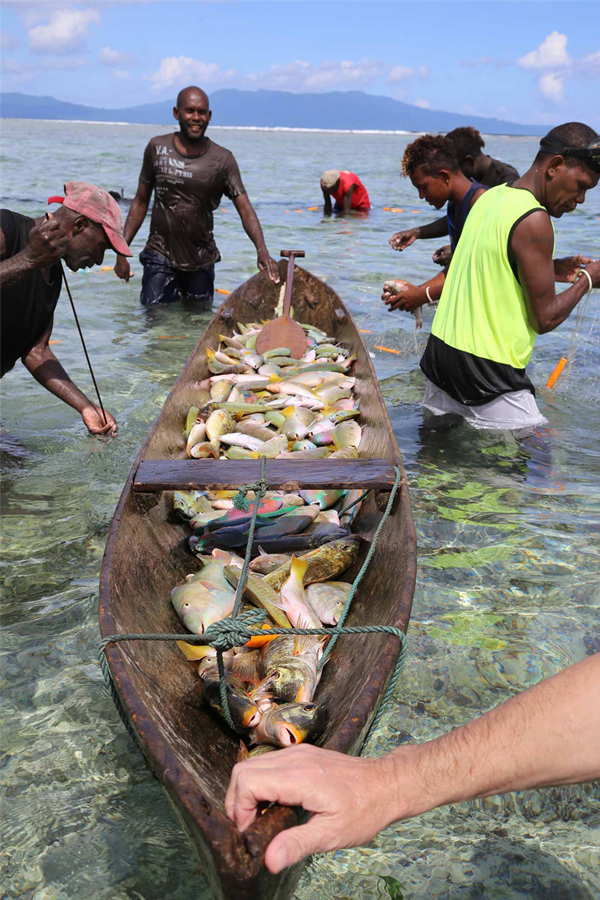 Solomon Islands Fishermen (Photo: Embassy of the Solomon Islands to China)
"I hope that my children will read more and learn more in China"
Fugui's life in China is quite busy with endless meetings and research. He needs to discuss the potential launch of a direct flight between Honiara, capital of the Solomon Islands, and cities in China, promote the export of tuna and timber from the Solomon Islands to China, expand tourism cooperation, tap into the cooperation space of solar energy projects, and look for cooperation opportunities with various Chinese companies. There are many goals and tasks on Fugui's agenda.
However, "exploring China and reading China" are always prioritized in Fugui's tight schedule. "I have been to Pingtan, Fujian Province; Changsha, Hunan Province; Guangzhou, Guangdong Province, and I like each city very much, and I would like to visit Hong Kong in the future." Fugui hopes to know China in a more in-depth way. This is not only his self-imposed requirement, but also his expectation for his four children. "When we return to the Solomon Islands, I don't want people to say that you have been to China, but there is nothing Chinese in you. I want my children to not only eat Peking duck in China, but to read and learn more in China," Fugui said.
As he tries to know more about China, Fugui pays special attention to the development experiences of China. He said that in the last three years since the Solomon Islands and China established diplomatic relations, the institutional superiority and highly efficient executive power of China have impressed the people of the Solomon Islands a lot. "Over the last few decades, we mainly dealt with western countries, but we did not make much progress in development. Establishing diplomatic relations with China brings us huge changes, including our style of doing things. We need to learn from China's wisdom and experiences," he said.
Fugui particularly talked about the inspiration he got from China's democracy, that is, "a country cannot copy others to develop their own democracy." He believes that democracy is diverse and different countries have different forms of democracy. China has blazed a path of developing democracy that is in line with its national conditions. "China's democracy has avoided involvement to the greatest extent, prevented mutual constraints and serious internal conflicts, and is able to form a united force for the good of all," Fugui said.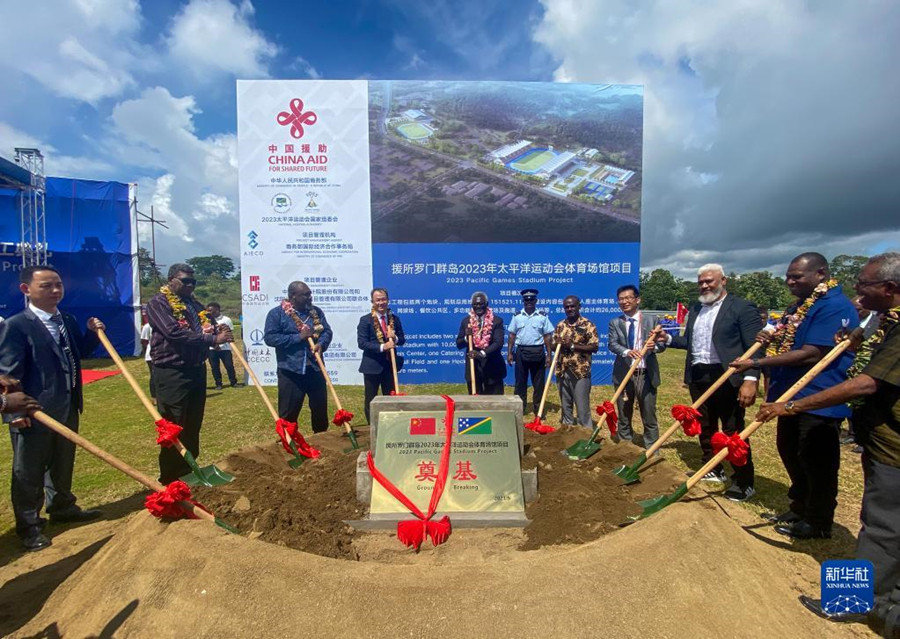 In April this year, the training track and field of the Pacific Games Stadiums project in Solomon Islands built with China's assistance were officially completed and delivered to the Solomon Islands government. (Photo: Xinhua)
By Mao li, He Lie | Haiwainet
责编:吴正丹