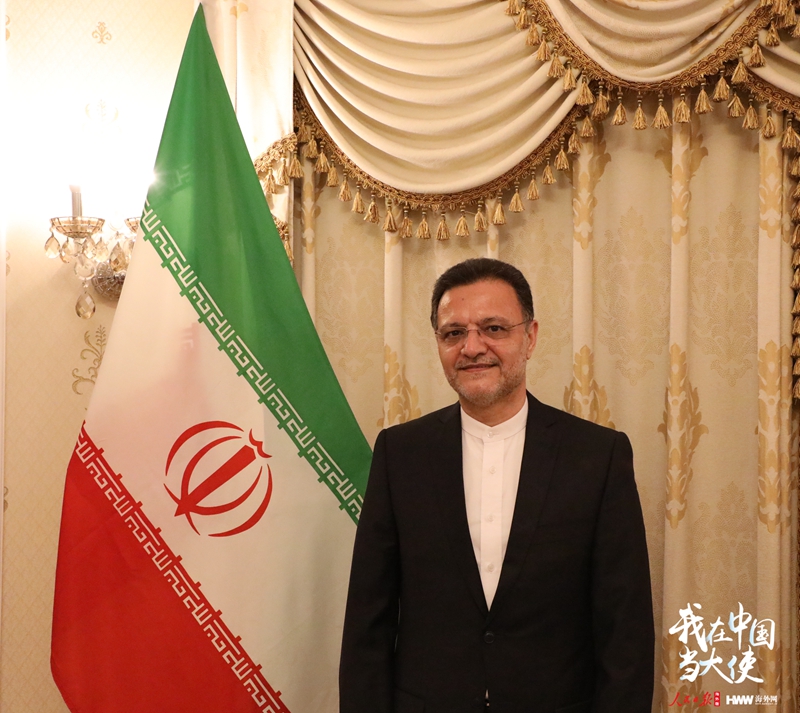 Mohsen Bakhtiar, Ambassador of Iran to China (Photo by Lu Ningyuan/People's Daily)
I recently visited China's Xinjiang Uygur Autonomous Region with many diplomatic envoys at the invitation of China's Ministry of Foreign Affairs. During our visit to Urumqi, as well as Kashgar and Aksu prefectures, we all got to know the beautiful Xinjiang and the achievements in this region of China more than before. Looking back, the changes in Xinjiang especially in the last ten years are fundamental and amazing. The development of infrastructure including various commercial, economic, transportation, agricultural and animal husbandry, industrial, trade, scientific and technological, energy, and cultural fields is significant.
When conversations turn to the Silk Road and the deep historical ties binding Iran and China, it's impossible to ignore the pivotal role played by Xinjiang. Xinjiang is China's western gateway to Central Asia, Iran and Europe. The ancient works in this region prove the close relationship between Iranians and Chinese people in history.
Today, the Silk Road has emerged in the form of the Belt and Road Initiative. Interestingly, that the rail and road connections through which China is connected to Central Asia, West Asia and Europe almost pass through Xinjiang.
Iran recognized the promise of the Belt and Road Initiative early on, joining it in 2016. Through this platform, we are connected to the broader Chinese landscape. Iran is seeking to revive the historical role in the transport connections between China and West Asia and Europe in the modern era, and is focusing on fostering deeper economic, cultural, and social partnerships with China.
Iran's Khorasan Razavi Province and Xinjiang have established sister-province relationship. Khorasan Razavi contains many historical, natural and economic attractions. Regarding economy, Khorasan Razavi is considered as one of the most active provinces in Iran. It has taken five measures to expand economic growth: launching Innovation and technology parks, absorbing foreign investments, developing mining industry, facilitating business environment and following economic diplomacy based on neighboring and surrounding policy. Iran is willing to continue to promote friendly cooperation between Khorasan Razavi and Xinjiang.
I am happy to mention that Iran has recently become a full member of the Shanghai Cooperation Organization. The Shanghai Cooperation Organization offers valuable opportunities for practical collaboration in many fields among member states. Opportunities lie in transit, counterterrorism, energy, economic cooperation, and people-to-people communications. Xinjiang has unique geographical advantages. Under the SCO framework, timely collaboration between Iran's provinces and cities and Xinjiang can be at hand and new potential exchanges will be facilitated.
By Mohsen Bakhtiar, Ambassador of Iran to China.
责编:何洌、毛莉